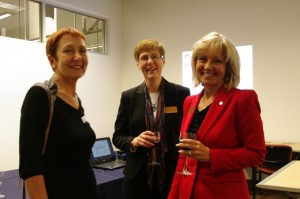 On November 15, 2012, the School of Library, Archival and Information Studies, the iSchool at The University of British Columbia, hosted the grand opening of a new research space for students and faculty, the Roberta F. Greig Research Laboratory. This event also acknowledged the launch of the iSchool brand at SLAIS.
Construction of the new research laboratory space was funded by a bequest from Roberta Ferguson Greig, a long-time supporter of public libraries who retired in 1991 as branch manager for a small community public library on Vancouver Island. She passed away in 2009. The new space includes a 300-square-foot research studio and an office for research assistants. At the grand opening, iSchool Director Dr. Caroline Haythornthwaite noted the new space is in support of the School's goal to foster a research perspective in its students and graduates, and underscores the importance of research thinking as necessary skills for management of future needs, growth and change in information, and to guide institutional practice. "It's great that professors and GAAs now have a space and some technology solely dedicated to research," says recent MLIS graduate Alice MacGougan of her use of the lab as a Graduate Academic Assistant for Dr. Eric Meyers and Dr. Lisa Nathan.
In 2011, the School of Library, Archival and Information Studies at UBC officially joined the iSchool collective of information schools, which Dr. Haythornthwaite characterizes as "focus[ing] on the intersection of information, technology and people, doing so by drawing on a broad interdisciplinary approach to these phenomena, the relationship between them, and the interplay with culture and human endeavour." As part of this designation, the School has launched a new look to its logo to incorporate the iSchool brand.
Attendees of the launch enjoyed a wine-and-cheese spread and mingled while perusing research posters prepared by faculty and their research assistants.