The Vancouver Children's Literature Roundtable presents
Julie Flett, Julie Morstad & Richard Van Camp in Conversation
Join us on Saturday October 19, 2013 for a morning of words and images, entertainment and delight as three rising stars in Canadian children's publishing talk about their craft.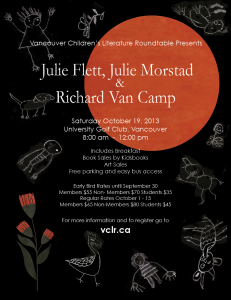 University Golf Club
8:00 am – 12:00 pm
Includes breakfast | Book sales by Kidsbooks | Art sales
Early bird rates end September 30, 2013.
Click here for more information and to register.